Today, I am linking up with
Melanie
. This is my first Link UP! When I saw the topic I figured I may as well since I have a couple of tattoos.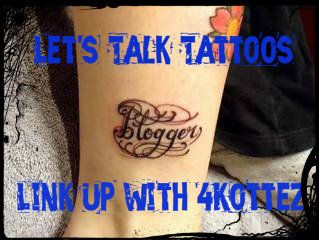 Ok, so the ink and their stories.....
I got my first tattoo back when I was 19. It's a long crazy explanation but it goes something like this: I had been with my college boyfriend off and on. We were currently off and I was dating my hubby, J. (told you it was crazy) Anyway, the college bf had recently gotten a new tat but said he did not want me to get one. Well, since we were "off" I didn't much care what he thought. J and I went on a date to Putt-Putt and started talking about it. He said let's go do it! And so I did. It's a lower back tattoo but not low enough to be a "tramp stamp." You can't see it unless I pull my shirt up. So, it was a "I really want one" and "I'm getting back at the bf" decision. The good thing is J was there with me!
My second tattoo I got back in 2008. My brother, Amos, had recently been deployed for the first time to Iraq. I had been wanting another tattoo and decided on this one because it had meaning. It is the Japanese symbol for "family." Now, of course, other family member were supposed to get this same tat but no one ever did. And that is fine by me. I love it, know why I got it, and am glad that I did. It is on the inside of my right ankle. Amos ended up serving a total of 2 tours (Iraq & Afghanistan) and after almost 9 years in the Marine Corp finally retired!
I don't think my tattooing days are over quite yet. I know that I want at least one more, but what and where I am not sure. All I know is it will have to do with my boys. Once I decided and do it I'll be sure to post about it!